BEFORE WE GOT TO KNOW EACH OTHER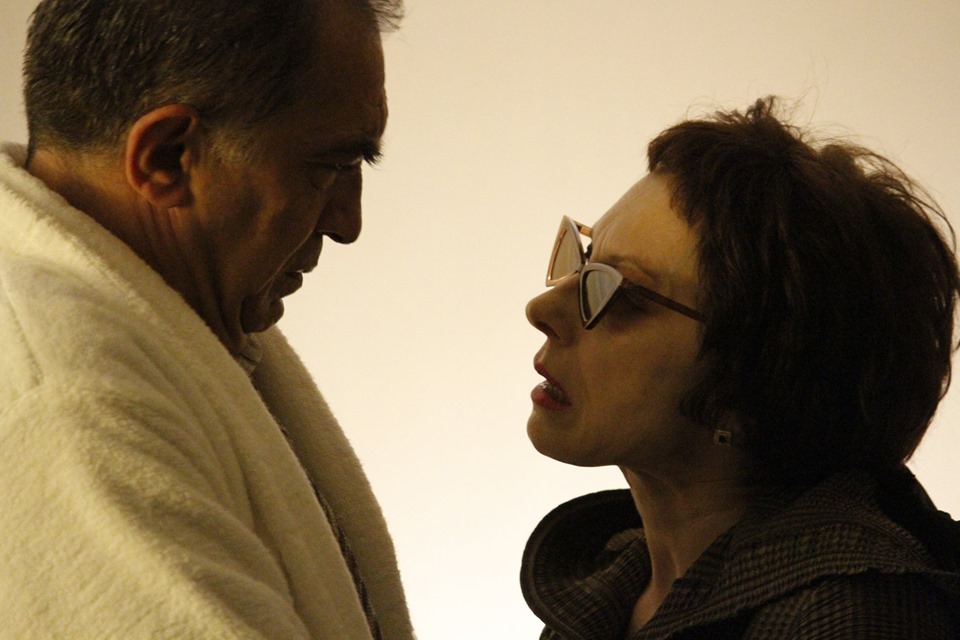 Basa Janikashvili
BEFORE WE GOT TO KNOW EACH OTHER
Director - Zurab Getsadze
Artist - Shota Glurjidze
Music By Erekle Getsadze
Video - imaging - Giorgi Khositashvili
Cast: Nino Burduli, Goga Pipinashvili
About the Performance:
Director Zurab Getsadze seeks an alternative space for his performance. A room in a hotel is transformd into a theatrical stage, where actors and audience are united. Everyone in the room becomes a participant of the action.
In a hotel room two people are trying to get to know each other. These two major characters of the play __ Nino (female) and Gyia (male) are making a strenuous effort to recall when they had met each other while unwilling to reconcile with the fact that they know each other's names.
There's a knock at the door. They are in bed together __ their formula of escapism. The uneasiness of the situation is further intensified by the knowledge that it's the cheated husband and wife. They suddenly realize, it, in fact, is them standing beyond the door.
In a desperate attempt to save their love, Nino and Gyia refuse to acknowledge they have long been married to each other. They want to flee the monotonous life and tap into their powers of love and fidelity.
Running Time: 55 min
/No interval/
Premiered: 22.06.2018
"22 theater goers, In the room N2208 of the Hotel "Ambassadori - Tbilisi", By the Idea of Zurab Getsadze, are direct participants two lonely, tragic-comic coexistence of man and woman alienated from each other. The story that happened during one night includes the entire life of these two people. Performed by absurd stylistics, the stage director and actors, joined to each other the stylistics of realistic, emotionally, transformed and alienated play. The Professionalism of Nino Burduli and Goga Pipinashvili even more awesome, because they are playing in close proximity to the audience. In the course of action there is neither second, nor minute, loss of interest or boring from audience. There is no scene, an episode in which the audience is not involved completely and is not interested in development of a plot."
Maka Vasadze / Critic