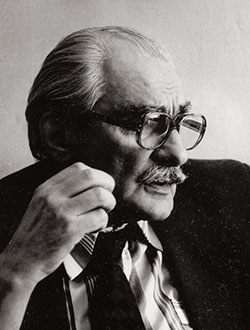 Mikheil Tumanishvili (born February 6, 1921) was a Georgian Theater Director, theorist and a teacher.
Mr Tumanishvili studied under Giorgi Tovstonogovi at the Tbilisi State Theater Institute Graduating in 1948.
He began his career at the Shota Rustaveli Theater, where he became principal director in 1968-69.
Film Actor's Studio Theatre was founded on 14th January, 1978 – on the day of the Georgian theater. Young actors and stage directors, graduates of the experimental class of Professor Mikheil TumaniSvili (then he was the artistic director of Film Actor's Studio Theatre (1978-1996)) At the Rustaveli Georgian State Theatrical Institute, forms the nucleus of this theatre.
The Theatre maintains permanent troupe. It is repertory theatre and is subsidized by the State. The company members are professionals, mostly Tumanishvili's former students (he taught them acting and directing at the State University of Theater and Film).
Important performances: Gaga Nakhutsrishvili "Chinchraka" (1963), Jean Anouilh "Antigone" (1968), David Kldiashvili "Bakula's Pigs" (1978), Jean-Baptiste Molière "Don Juan"(1981), Thornton Wilder "Our Town" (1983), William Shakespeare "A Midsummer Night's Dream" (1993), Jean Giraudoux "Amphitryon 38" (1994) and other.
Important theoretical works: "Before the rehearsal begins", "Director leaves the theatre",
"It's Time to draw the curtain"